Masternaut has formed a strategic partnership with vehicle CCTV specialists SmartWitness, offering the latest integrated telematics and camera technology to enhance driver safety for all fleet vehicles, including the grey fleet.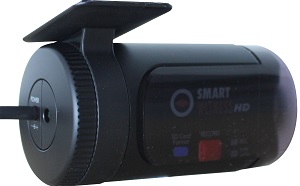 The joint offering will give fleets and drivers a complete safety solution that integrates telematics and driver behaviour improvement with in-cab camera technology. This provides an instant reduction in insurance premiums and provides protection against 'crash for cash' schemes and not at fault claims.
The video filmed through the SmartWitness KP1 camera is court admissible evidence, and can help protect drivers from the burden of pre-meditated staged accidents, false or exaggerated whiplash claims, conflicting reports of actual events, and driving offence allegations.
The SmartWitness KP1 camera pairs with Masternaut Connect to provide drivers with video evidence of an accident on the Masternaut platform, where data can then be downloaded from the vehicle through an SD card and viewed in HD quality. The camera records what happens before, during and after an accident and records the driver's view of the road, the vehicle location, the impact force of the accident and the driving style (speeding, braking, acceleration, cornering).
Teamed with the Masternaut telematics solution, drivers can reap the camera's benefits as well as improve driver behaviour, cost reduction from managing fuel expenditure, and improved safety through accident reduction. The camera attaches to the inside of the windscreen with a high strength adhesive pad, and Masternaut can install the camera and the MT400 device at the same time, reducing the time the vehicle spends off-road.
Alex Rothwell, Chief Technology Officer at Masternaut said, "The camera evidence provided through the SmartWitness technology is a huge help for drivers who have a vehicle accident, whether it's for an insurance purposes or defending false claim by another driver. Demand for camera integration in cars, van and lorries is increasing, and we're glad to deliver further safety enhancements that are both preventative and retrospective by offering integrated SmartWitness cameras to Masternaut customers across the market."
Paul Singh, SmartWitness CEO, said: "Just 2% of incidents caught on SmartWitness cameras result in disputed insurance claims against an industry norm of 40% of all motor claims. It enables SmartWitness to achieve big savings on insurance for drivers. We are delighted to be providing integrated telematics and camera technology with Masternaut and delivering added value for fleets."