A year after it launched a new business venture with a pair of Mercedes-Benz vans, IW Drains returned to Dealer MBNI Truck & Van for another three.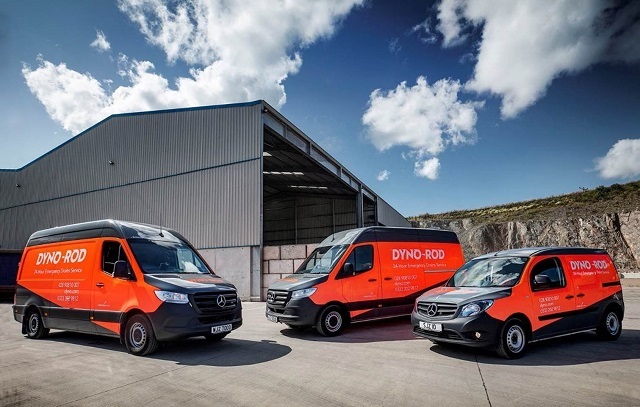 The Belfast-based operator has added two Sprinters vans to those it was already running, and has also commissioned a small Citan – all wear the distinctive livery of Dyno-Rod, which awarded IW Drains a licence in 2018 to cover Northern Ireland.
IW Drains in association with Irish Waste Services provides a comprehensive portfolio of waste management solutions, covering everything from hazardous materials to reduction, recycling, recovery and reuse, for customers working across a broad range of industry sectors. It also runs a fleet of heavy trucks from its base in the Carryduff area of the city.
"Having taken on the Dyno-Rod work we quickly realised we needed additional vehicles to provide cover," explained Transportation Manager Finbarr Gallagher. "We considered vans by various manufacturers but came down in favour of Mercedes-Benz because we felt it offered higher standards of build quality, comfort and safety.
"That decision has been fully vindicated. Our first two Sprinters have proved totally reliable and performed very well, so we had no hesitation about returning to MBNI Truck & Van when we needed more."
IW Drains' first two Sprinters carry high-pressure jetting equipment for drain cleaning, and are racked out to carry tools and spare parts. One of the new vans is similarly equipped, while the second carries remotely controlled camera and monitoring systems for surveying damaged pipelines. All work was carried out by Total Van Solutions, of Newtownabbey.
Launched last year, the latest Sprinter range offers class-leading levels of comfort, efficiency and safety, and is also a technological tour-de-force thanks to its 4G internet connectivity. IW Drains chose long, high-roofed L2 H2 316 CDI variants, with fuel-efficient 163 hp engines that drive the rear wheels – Sprinters are also available in front- and all-wheel drive configuration.
The company's small Citan, meanwhile, has been allocated to Operations Manager Paul McReynolds. The 109 CDI model combines a comfortable, car-like driving experience with a useful load space and exemplary economy – its 1.5-litre powerplant produces 109 hp and returns up to 65.7 mpg in the combined cycle.
The vans are now being used by engineers to carry out domestic and commercial drain-cleaning work across the whole of Northern Ireland. They are being maintained at MBNI Truck & Van's workshop in Newtownabbey under Mercedes-Benz ServiceCare plans.
"The Sprinter is ideally suited to this application," continued Mr Gallagher. "The body is the perfect size and the rear-wheel drive set-up is our preferred option for vehicles which carry a lot of weight over the back axle. The cab interiors are great too, very smart and well-appointed. They have certainly been favourably received by the colleagues who use them."
Like all new Mercedes-Benz vans supplied through the manufacturer's official Dealer network, IW Drains' Dyno-Rod vans are backed by three-year, unlimited mileage warranties. They also came with MobiloVan cover, which includes free, round-the-clock emergency assistance – making good on the manufacturer's commitment to "keep businesses moving", dedicated technicians fit only Mercedes-Benz GenuineParts, and fix the overwhelming majority of breakdowns at the roadside.
"The service from MBNI Truck & Van has been first-class," Mr Gallagher added. "Sales executive Johnny Andrews has been very attentive ever since we made our first enquiry. The warranty and MobiloVan support are excellent too – we've not had to call on either, but it's nice to know the safety net is there."