Soaring demand from customers for its ultra-low fat, "guilt-free" MillarMoo milkshakes prompted Northern Ireland's Clarke Millar to invest in a new fridge-bodied 26-tonner that wears the tried and trusted three-pointed star of Mercedes-Benz.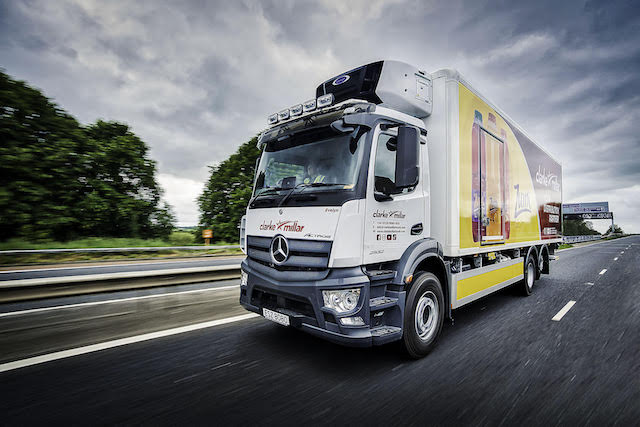 The Dunmurry-based company's eye-catching Actros arrived via Newtownabbey Dealer MBNI Truck & Van, which took back a pair of 7.5-tonne Atego in part-exchange. Whereas the smaller vehicles could each carry half a dozen pallets of product, the new six-wheeler will take 16.
Acquired with competitive funding support from Mercedes-Benz Finance, the Actros is a 2532 L model with ClassicSpace S-cab and 7.7-litre in-line six-cylinder engine producing 235 kW (320 hp). It has rear air suspension and a tag axle – raising the back wheels not only enhances manoeuvrability by reducing the turning circle, but also prolongs tyre life.
The vehicle's single-compartment insulated body was built by Gray & Adams. The leading supplier of temperature-controlled transport equipment fitted the high-performance, quiet-running Carrier Supra 1150 refrigeration unit as well, while the 2,000 kg full retractable tail-lift is by Zepro. 
Proprietor Clarke Millar had spent 23 years working for the family bakery when he established the business that bears his name in 2012. A specialist producer and distributor of chilled and ambient products for the retail and food service sector, it has achieved a 70% increase in turnover over the last three years.
Clarke Millar also relies on a three-year-old 13-tonne Atego and its Mercedes-Benz Sprinter vans to supply customers in Northern Ireland. Deliveries to the Irish Republic and Scotland are entrusted to third-party providers.     
Much of the company's recent growth has been driven by MillarMoo and the soft drinks that Clarke Millar distributes under the Zumi brand. Available in four flavours and containing less than 1% fat, MillarMoo has just hit the shelves at Spar Scotland. The range is strikingly promoted on one side of the new truck's body, while the other is devoted to Zumi.
"We'd reached the stage at which it made sense to commission a bigger truck in order to stay ahead of demand," said Clarke Millar. "I did also consider a Swedish vehicle but went with the Actros in the end, not least because our experience of running other Mercedes-Benz trucks and vans has been so positive. 
"They've always been cost-effective to operate and exceptionally reliable – one of the 7.5-tonners we've just traded in was on a 12-plate and had been an excellent workhorse that never let us down."
He continued: "As a Mercedes-Benz customer for 25 years I enjoy a very good relationship with the Dealer. Nothing is too much trouble for Truck Sales Manager Paul McCrory and his colleagues at MBNI Truck & Van. There are never any 'ifs' or 'buts'. Instead, they honour their commitments and will always do whatever they can to help." 
Mr Millar added: "I'm delighted with the Actros. Not only are we able to deliver more product than previously, but, because we've taken a truck off the road, we're also saving on fuel and labour costs. Plus, of course, it looks fantastic in its strong livery and doubles as a great mobile advertisement for our brands."
Seasoned professional Norman Little was recruited specifically to drive the Actros. Having spent 36 years behind the wheel, he is thoroughly enjoying his first Mercedes-Benz. "It's a lovely truck and very comfortable indeed," he said. 
Mr Little is particularly taken with the vehicle's radical new dashboard – the Multimedia Cockpit replaces conventional switchgear with stylish and intuitive twin screens, one of which has touch functionality.
"I received a very good, professional handover from the Dealer," he reported. "The new dash is very different to what I've been used to, but is so easy to operate that it took me no time at all to get the hang of it. I'm definitely a fan."