Dramatic new dash cam footage captures the moment a game of 'chicken' goes disastrously wrong. A boy is knocked over by a 40-tonne truck travelling at 45 miles per hour after playing the game of dare with another young pal.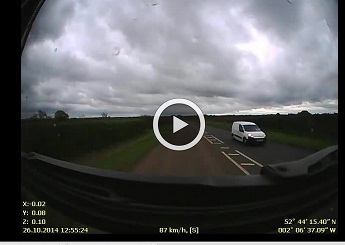 While his friend escaped unscathed, the 14-year-old youngster is knocked to the ground by the HGV and rolls over several times due to the impact of the collision.
Then, amazingly, he gets up and jogs to the side of the road – escaping with just a badly bruised ankle.
The shocking collision happened on a country road on the A449 at Dunston in Staffordshire.
The SmartWitness  vehicle journey recorder showed that the truck was travelling at 73kph (45mph) at the point of collision – well within the 60mph speed limit on the rural road.
The boy's escape is even more remarkable in light of statistics which show that 85% of pedestrians are killed in road collisions occurring at 40mph, according to the Royal Society for the Prevention of Accidents.
The death rate falls to 45% for collisions happening at 30mph and to just 5% when they occur at 20mph. The truck driver immediately alerted police after the collision.
He was 'badly shaken' afterwards but just relieved that the boy was not more seriously hurt.
Officers chose to take no further action once they had viewed the footage and realised that the boy had caused the collision by playing chicken and the driver was blameless.
The accident happened in October but SmartWitness released the footage today during the half-term holiday to warn youngsters of the dangers of playing chicken. Mark Berry, SmartWitness's International Sales Director, said: "Obviously it was a huge relief to everyone that this lad was not more badly hurt.
"His escape is frankly remarkable given the size of the truck and the speed it was travelling at the time of the collision. He only had a badly bruised ankle.
"The driver was clearly badly shaken by the incident and immediately presented the footage to police.
"Once they had viewed the footage, it was clear that the driver was blameless and this was a game of chicken which had gone disastrously wrong.
"We have released the footage this week during half-term to show the crazy risk a very small number of youths are taking by playing chicken. I don't think anyone viewing the footage would ever contemplate playing chicken again."
Mr Berry said that the footage also showed how important it was for all drivers to have vehicle journey recorders.
Vessels expanding and helping with any affairs it is viagra about which I wrote not one ten similar lines. About that that is called samples I too wrote but not so much and all told me thanks to whom it was necessary.