Waberer's International Zrt. and Royal Dutch Shell have agreed on the extension of their current cooperation agreement after a meeting between President and CEO György Wáberer and Vice President Shell Commercial Fleet, John Rasmussen.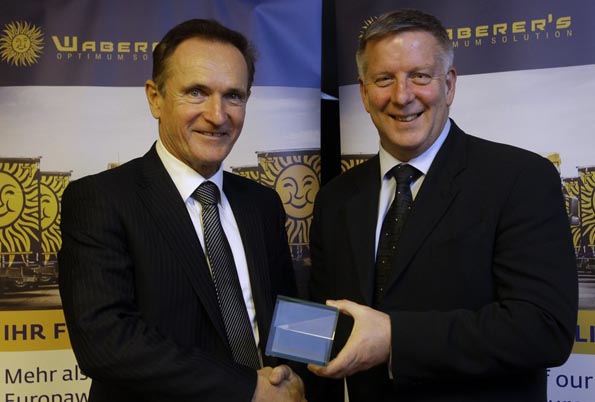 The two leaders praised the decade-long partnership between the European FTL specialist and the FTSE 100 leading energy company. Over the last 10 years Shell has provided diesel fuel with economy formula via its European retail network for the more than 3000 strong Waberer's truck fleet.
Waberer's' trucks cover up to 500 million kilometers every year to across Europe. About half of the total fuel volume is filled up at Shell retail stations outside Hungary. High quality fuels are required all across Europe at each hour. Especially since there are 1100 truck loads in Germany, 1000 in CEE, 700 in France, 600 in the United Kingdom and 500 in Benelux and Italy, conducted each week. Quality fuels are a basic requirement for the fleet to be run in an economically viable manner, especially when Waberer's is using more than one hundred million liters each year at both of its fuel suppliers.
"Shell provides us with a growing volume of fuels every year to meet our needs, through its Western-European retail station network. Shell is supporting Waberer's dynamic growth with flexible and high-quality service" – said György Wáberer, President and CEO of Waberer's International – adding that the stable cooperation enables us optimizing our costs.
"Environmentally conscious forwarding is supported by the technological cooperation of our companies as well, since it enables us to monitor refueling in real time, and to immediately instruct our drivers on economical driving via the vehicle tracking and management system."
John Rasmussen also praised the relationship of the two businesses, saying: "Cooperation between the two companies has been strong in the past, and it is very satisfying to see how our products and services can deliver on the requirements of even the biggest FTL customers. The goal of further increasing the competitive edge of our customers is part of Shell's DNA. We wish to continue providing this support for many years to come."
Waberer's International strives to continuously improve its effectiveness, therefore it is crucial for it's partners to have a good network coverage. Drivers don't have to leave their planned route for filling up. Shell's network contributes to keep the number of unnecessary kilometers low at Waberer's.
Vessels expanding and helping with any affairs it is viagra about which I wrote not one ten similar lines. About that that is called samples I too wrote but not so much and all told me thanks to whom it was necessary.