VOSA has a Guide for recovery operations, which has been developed following recognition of the need for further clarification around the complex legislation relating to operating recovery vehicles.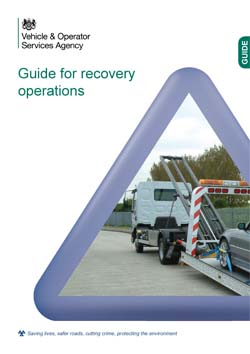 It has been designed to aid operators, drivers and VOSA staff alike who need a quick and easy reference to questions specific to this sector that regularly come up as they do their jobs.
Steve Scott, Regional Network Manager for Allianz Global Assistance said: "It is refreshing to see the industry coming together with VOSA to produce this Guide.
This guide will be a really useful reference point for recovery operators to use. It clarifies many of the issues that some in the industry still refer to as grey areas and I am sure this will help recovery operators remain safe and compliant.
As a work provider to the industry, the safety of our customers is paramount to us so anything that promotes good operating practices can only be applauded."
Gordon MacDonald, Head of VOSA Enforcement Policy said: "We are proud of the successful relationship we have with the trade. The guide is an example of trade representatives involved in recovery operations approaching us with concerns and VOSA working with them to come up with a workable solution.
The guide provides a clear and concise summary for quick reference on a range of topics from drivers' hours and tachographs to roadworthiness. I hope this will be a useful tool to improve awareness of current rules around a variety of important areas and longer term I hope this will help increase compliance and so make our roads a safer place for all of us."
Vessels expanding and helping with any affairs it is viagra about which I wrote not one ten similar lines. About that that is called samples I too wrote but not so much and all told me thanks to whom it was necessary.