Transport Exchange Group, the leading operator of the UK's largest independent freight exchanges, has upgraded its mobile app to enable couriers, owner drivers and road transport operators to provide live updates to customers on the status of their loads. Used in conjunction with Courier Exchange and Haulage Exchange, this latest enhancement offers added visibility and peace of mind by capturing and communicating vital, real-time data at key points of the collection and delivery process.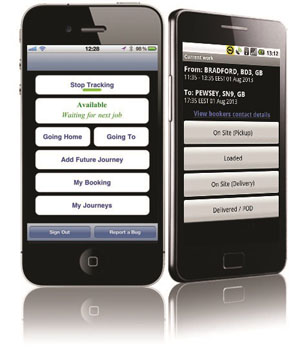 A driver can quickly and simply update the status of their latest job via a new 'My Booking' area within the mobile app to confirm when they arrive for a pick-up; when the vehicle has been loaded; and when the delivery destination has been reached. It also possesses the functionality to input additional cargo data – such as number of items, weight, reference and expected time of arrival – as well as provide proof of delivery on completion. Each status update is date and time stamped, while alerts can be automatically emailed to customers.
The mobile app, suitable for all Android and Apple smartphones, was launched last year to provide an effective means of making load and driver matches via the freight exchange platform. As a result, member drivers can advertise their real-time location and availability status, giving immediate visibility to their trading partners. Meanwhile, the system can also automatically match drivers with available loads based on their current position.
Lyall Cresswell, Managing Director of Transport Exchange Group commented: "Our mobile app is designed to be user-friendly and functional to maximise visibility of available capacity and boost profitability. Our latest enhancement will build on the success of this valuable freight exchange tool by helping our members to keep in touch with customers and maintain high levels of service delivery."
Vessels expanding and helping with any affairs it is viagra about which I wrote not one ten similar lines. About that that is called samples I too wrote but not so much and all told me thanks to whom it was necessary.