Logistics experts the Transland Group has purchased eight new bespoke trailers for its services to and from Ireland. The Department of Transport recently introduced new regulations on the height limit of 4.65m for trailers entering the country, as opposed to the standard 4.8m throughout the UK. This has limited many logistics firms to single-deck trailers.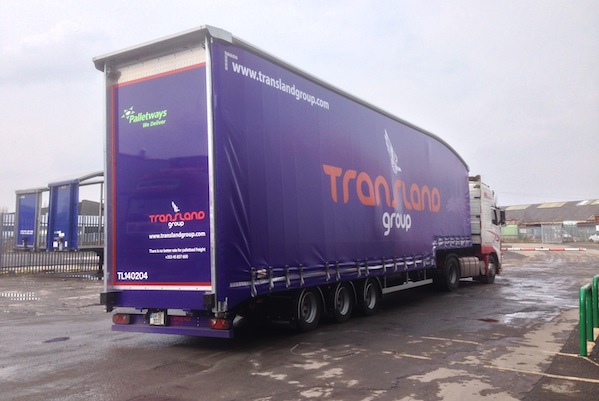 Palletways network member, Transland, has become the first company to react to the new regulations, with the introduction of eight made-to-measure double-deck trailers. Working with leading trailer manufacturer Lawrence David, Transland's latest editions have been designed to offer maximum flexibility for loading and greater fuel efficiency, while also incorporating the latest health and safety guidelines.
The new trailers are fitted with cargo nets, strapping for both lower and upper decks, wrap-around curtains and a mesh floor on the upper deck to provide better visibility and increased payload.
Kelvin Jones, Business Development Director at Transland International, said: "The introduction of these bespoke double-decker trailers means that we offer greater efficiency to businesses throughout Ireland compared to any other pallet network. While the new legislation was a contentious point in the industry, we reacted quickly to ensure our customers continue to enjoy the highest level of service whilst still being competitive".
Transland is one of over 100 members in the Palletways UK network – Europe's largest and fastest growing express palletised freight network. The company's distribution networks are made up of independent transport companies who share each other's resources to deliver small consignments of palletised freight to the marketplace faster and more cost effectively than ever before.
Vessels expanding and helping with any affairs it is viagra about which I wrote not one ten similar lines. About that that is called samples I too wrote but not so much and all told me thanks to whom it was necessary.