As part of the ongoing development of its mobile maintenance fleet, TIP Trailer Services has added a further 17 new Renault Master LWB, high roof panel vans that have been specially equipped as mobile service units (MSU's). The company now operates a fleet exceeding 80 MSU's in total throughout the UK and Ireland.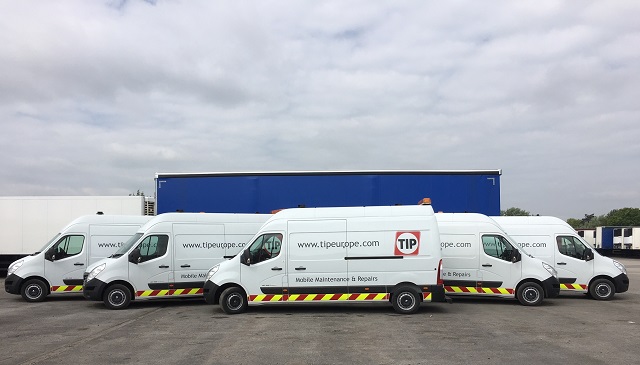 Integral to the success of the TIP's FleetCare fleet maintenance programme, these vehicles are used by TIP technicians to carry out work on customer's trailers, either at their premises or out on the road. Fully kitted out with a significant level of internal workshop equipment, shelving, power supply and power tools, the state of the art MSU's are designed to provide customers with a range of trailer service and breakdown support services. Capabilities include pre-MOT inspections, tyre servicing, diagnostics checks, preventative maintenance and the rectification of common trailer faults.
Although designed mainly for trailer maintenance, the MSU's are capable of handling complex trailer check diagnostics by simulating the role of tractor unit in being able to test the brakes on a trailer. Technicians can provide comprehensive diagnosis of electrical faults through laptops that plug-in directly to the trailer braking system so providing a complete one-stop mobile workshop.
"10 years ago we started with a single MSU in our fleet and now we have over 80 nationwide. These have been progressively introduced into the fleet and now operate on a rolling five-year working life," said Mike Furnival, Managing Director, TIP Trailer Services.
Mike continues, "With the significant number of new contract gains in the past 12 months we needed to increase our MSU fleet in order to offer our customers the highest possible levels of trailer maintenance service support. These vehicles offer a very generous payload that has allowed us to specify the optimal level of equipment and parts to cover most eventualities in terms of trailer servicing and maintenance. Nearly all trailer related maintenance can be done on-site including curtainsider repairs and even some minor bodywork."
These self-contained MSU's represent a high-level of investment by TIP in each vehicle and supplement the current network of service centres and ATF's provided under the TIP umbrella. As Mike Furnival continues, "Over the years we have developed a nationwide structure to support our FleetCare product covering third-party maintenance and these MSU's play an invaluable role in enhancing the speed of response and quality of service that we can provide to our customers, wherever they are located.