With all transport and logistics businesses under pressure to keep costs down one Northern Ireland haulage company is seeing significant savings resulting from good tyre management.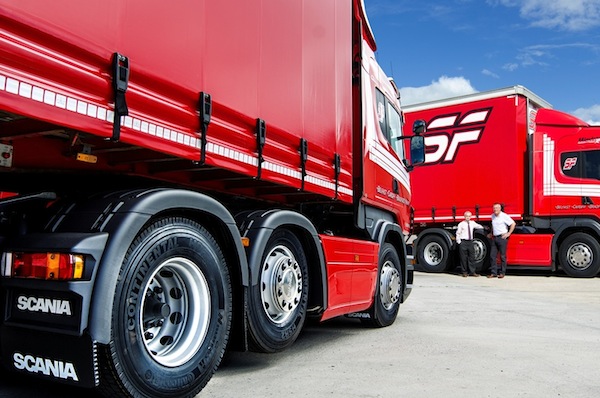 To make these savings, Surefreight, one of the leading logistics companies operating between Ireland, Britain and mainland Europe, turned to Continental for support. The result – annual spend on tyres fall by £59,000 when compared with 2011.
This large saving is down to choosing the right tyres in the first instance with good technical advice from Continental, and to following the ContiLifeCycle process. This five-stage tyre management process ensures that Surefreight gets maximum mileage out of the 3,500 plus tyres that are in use across its fleet of 200 tractor units and over 500 trailers.
On steer axles the choice is the Continental HSR2. Specially designed to provide maximum grip in all conditions, the HSR2 has intermediate blocks for extra traction, a tread design that is resistant to wear from 'scrubbing', and is made using a chip resistant compound.
Trailers are fitted with the Continental HTR2. Its low weight contributes to better fuel efficiency and it delivers high mileage because of its use of a precisely balanced compound and tyre geometry. Tyre damage is reduced as a result of the patented groove pattern, which is designed to eject stones easily. And its low noise level is well within legal limits.
Both the HSR2 and the HTR2 are designed for re-grooving when the tread depth reaches 5mm. Surefreight workshop staff have been trained by Continental in the techniques of re-grooving, which they carry out on their premises to give each tyre a considerably extended second life. Because a re-grooved tyre has lower rolling resistance it can contribute to reduced fuel usage whilst maintaining the same traction and road-holding capabilities of the tyre when new.
Once the tread on a re-grooved tyre reaches 5mm it enters the third stage of the ContiLifeCycle process – retreading under the ContiRe process. The casing is first carefully inspected and Surefreight receives a credit for each one accepted into the bank. Retreading takes place to the same manufacturing standards as new tyres and using the same tread patterns to ensure equal performance.
ContiRe re-treads are also designed to be re-grooved under stage 4 of the ContiLifeCycle to ensure that optimum mileage is achieved. When the tyre reaches its minimum legal tread depth it moves into the fifth and final stage of the process, which involves environmentally responsible disposal.
Throughout the life of a tyre at Surefreight there is constant monitoring of its condition. Drivers carry out a visual inspection as part of their daily vehicle check and the supplying dealer, Philip White Tyres, carries out regular inspections that include checking for damage, measuring tread depth and ensuring that pressures are correct.
Surefreight director, Brian McManus, said: "It clearly pays to take care of tyres as we have seen with the significant savings we are now making. Choosing Continental as our tyre partner has been central to this. We get excellent service from the local dealer and good technical support from Continental in helping us to choose the correct tyres from the outset.
"By re-grooving and retreading we get high mileage out of our Continentals. And there's good back-up too from their breakdown service, which ensures that should a problem occur our trucks are back on the road quickly and disruption to our customers is minimised."
Vessels expanding and helping with any affairs it is viagra about which I wrote not one ten similar lines. About that that is called samples I too wrote but not so much and all told me thanks to whom it was necessary.