Seymour International International (SMI) is exhibiting at the forthcoming TCS&D show in Pterborough in September. The company says its is making available thermal insulation technology with proven operating cost savings and carbon reduction benefits in the food industry to the chilled and frozen logistics market in three new product innovations.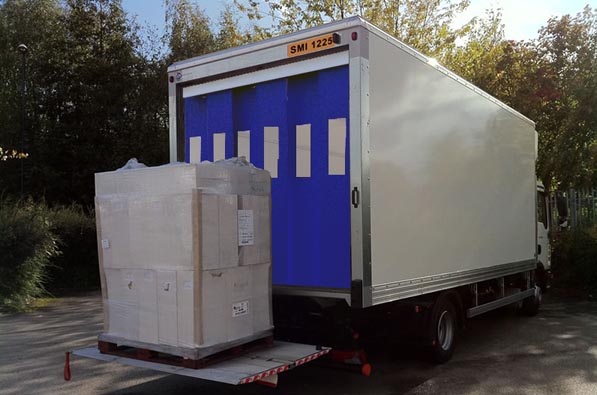 Newly developed and tested applications for SMI's remarkable Tempro lightweight and flexible thermal curtain material have resulted in what could be called a quantum leap in the ability to reduce the loss of chilled air and protect from incoming ambient air on rear and side entry delivery vehicles.
With design specification featuring a highly efficient thermal barrier during vehicle loading and unloading with the merits of chilled air retention and ease of driver operation the return on investment can be as low as 4.7 months with an annual reduction in carbon footprint of 4,704.53 Kg – the equivalent of 20,862 vehicle miles.
Appropriately named Back-Stop, Truck-Stop and Carrier-Barrier the three variants provide an inner lightweight high efficiency curtain door. In the case of SMI's Back-Stop the Tempro thermal qualities provide a 100% energy saving when the rear doors are open and 75% energy saving on driver entry. This impressive performance is achieved with the use of four section lightweight
Thermal curtain doors which significantly saves energy when one quarter of the door is opened to access goods leaving three quarters of the load constantly protected. 100% protection returns with vehicle rear door open when the driver activates a simple electro magnet switch to close the 25% of the curtain door.
Truck-Stop replaces the traditional inefficient plastic curtains with a number of Tempro thermally efficient strip curtains which are easy to pass through but provide a constant barrier to chilled air otherwise lost.
Carrier-Barrier is specifically designed for the smaller delivery van sector favoured by supermarket home deliveries with a unique Tempro barrier curtain suited to either rear or side door configurations. User benefits shared with the SMI Truck-Stop include proven thermal protection of a minimum 25% in chiller and 33% in freezer applications.
The properties of Tempro remain unchallenged as the world's thinnest and most thermally efficient material of its kind.
"A vehicle carrying temperature sensitive goods is exposed to the ambient on all six sides. The doors when open allow a flood of ambient air to enter but these new products are designed to save energy, reduce costs and are driver friendly. In addition it is difficult for mobile evaporators to maintain the chosen temperature with frequent openings, defrost cycles and high ambient temperatures. Tempro insulation reduces evaporator down time and maintenance costs." said Brian Seymour, chairman of SMI.
Nationwide installation is available through leading manufacturer of refrigerated vehicle conversions Solomon Commercials whose strategically located regional mobile engineers reduce vehicle downtime to a minimum by working on the customer's site.
Depending on the chosen product, installation can be carried out in under four hours. Where the customer has chosen to install SMI thermal efficient doors and combine the work with a repair or upgrade of the vehicle Solomon will provide a collection and delivery service. Cost and downtime is maintained to a minimum by utilising local commercial vehicle service centres.
Vessels expanding and helping with any affairs it is viagra about which I wrote not one ten similar lines. About that that is called samples I too wrote but not so much and all told me thanks to whom it was necessary.