Mobile computing specialist Skillweb has launched an innovative item tracking tool that will help couriers, carriers and postal organisations achieve 100 per cent electronic proof of delivery regardless of fluctuations in parcel volumes and network resources.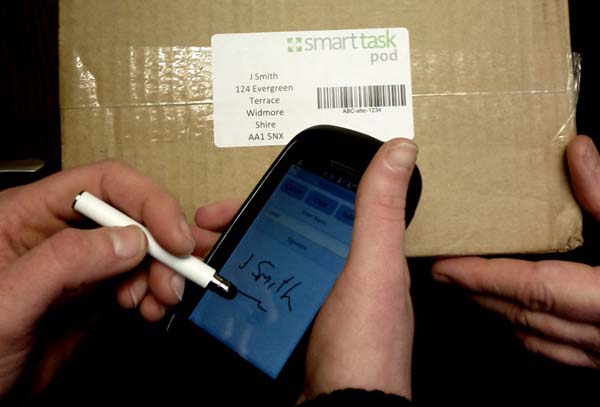 SmartTask POD is a downloadable and simple to use mobile application, suitable for a wide range of rugged, semi-rugged and smartphone devices, that can provide immediate access to an effective tracking system without the associated investment in terms of cost, management time and hardware.
SmartTask POD provides all the functionality of a parcel tracking solution enabling a courier or delivery operative to scan parcels, create exceptions and capture signatures, but what makes the application unique is the way it can be delivered and managed. The software can be downloaded to a mobile device via an app store to provide secure and immediate access to the tracking system, enabling the user to start work straight away and the company to avoid costly and time consuming set up.
Meanwhile, because the application can be simply deployed across across multiple Smartphone operating systems it provides the added flexibility to pick and choose the most suitable handset for each type of employee based on cost, functionality and durability. It also possesses the flexibility to be used as a standalone tool or alternatively integrated with Skillweb's Houndit Enterprise parcel tracking solution or a third party system.
Paul Ridden, Managing Director of Skillweb commented: "SmartTask POD not only reduces the cost of deploying a tracking solution, but also drives down the management, administrative and capital expenditure requirements of servicing peak increases in delivery resources. As a result, it is an ideal application for both SME courier businesses looking to adopt tracking for the first time and larger networks wanting to better manage temporary and seasonal workers, agency staff, franchisees and service partners."
Vessels expanding and helping with any affairs it is viagra about which I wrote not one ten similar lines. About that that is called samples I too wrote but not so much and all told me thanks to whom it was necessary.