SAF-HOLLAND, a leading supplier of highly efficient components, systems, and service programs in the global commercial vehicle industry, has recently seen an upsurge in sales of its aftermarket trailer products, thanks to the opening of a new parts distribution depot at Oldbury in the West Midlands by Montracon Ltd and as a result of ongoing expansion by Ireland's largest parts supplier SDC Truck and Trailer Parts.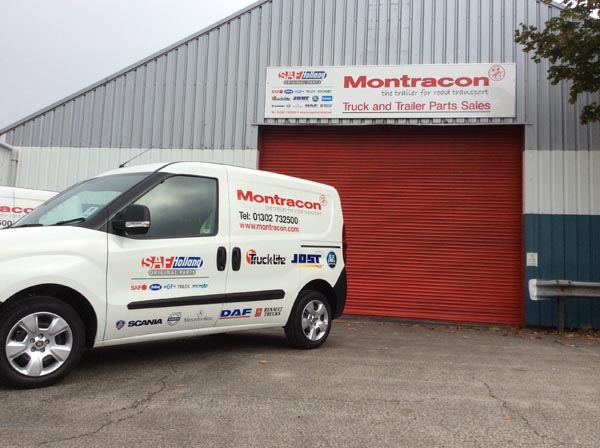 Ray McSorley, goods parts manager for Montracon Ltd commented, "We have invested heavily in stocking a comprehensive range of SAF-HOLLAND genuine aftermarket parts, not just in our new Oldbury depot, but throughout all our parts distribution network in the UK. Availability of parts is key within our industry. We offer a fast, flexible and reliable service and can now support all our customers with replacement parts when they need them, wherever they are."
Gavin Diamond, parts manager for SDC Truck and Trailer Parts added, "Our stock availability of SAF-HOLLAND original spare parts from IMS Limited is brilliant, if we do not have a part in stock for customers, we can nearly always have it available the next day. Thanks to SAF-HOLLAND and other major brands, we stock a comprehensive range of over 8,000 parts at our 5 depots. Backed by our network of sales representatives, recently opened depots in Lurgan, Dublin, Newry and Belfast and 20 parts delivery vehicles, we offer the best customer service throughout Ireland."
IMS Limited the exclusive distributor of SAF-HOLLAND products in the UK and Ireland, is supplying original spare parts for SAF axles and suspension systems, SAF Kingpins, SAF Landing Legs, HOLLAND Fifth Wheel and the IMS Solution Kit Range for trailer maintenance engineers.
The SAF-HOLLAND original parts supplied into the Aftermarket are the same components used during the manufacture of the original equipment. The best method of maintaining the reduced whole life costs associated with the SAF axle range is to fit genuine SAF-HOLLAND parts. The fitment of SAF-HOLLAND approved spare parts is also a prerequisite for the continuation of the long warranty associated with SAF.
Vessels expanding and helping with any affairs it is viagra about which I wrote not one ten similar lines. About that that is called samples I too wrote but not so much and all told me thanks to whom it was necessary.