Russell's Vehicle Management, the specialist transport company that handles motorsport, high performance and other prestige cars, has awarded a three-year contract extension to Ctrack for the provision of an advanced vehicle tracking solution to deliver added visibility and peace of mind.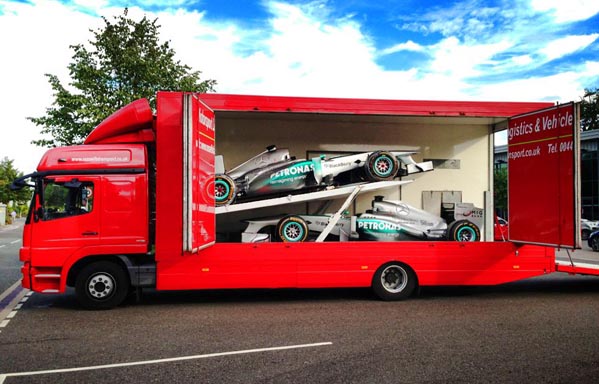 Under the agreement, the company has upgraded its existing system to web-based Ctrack Online and will also use the Ctrack Mobi2 smartphone application to monitor ten covered transporters responsible for the movement of rare and high value cars across the UK and mainland Europe.
Due to the high value of loads, time sensitivity of deliveries and geographic reach of the operation, Russell's Vehicle Management needs complete, round-the-clock visibility and control over its mobile resources. Ctrack Online will be used to track all transporter movements in real-time from two locations in Northamptonshire to ensure the safe delivery of single or multiple vehicles that include many different types of cars, from classic and prestigious vehicles through to high value super cars and race cars.
Ctrack Mobi2, a mobile application that provides instant access to live tracking data from a smartphone or tablet, will provide added visibility especially for out-of-hours vehicle movements. Meanwhile, a customer portal via the Ctrack Online system will enable clients to view the current location, status, direction and speed of a vehicle transporter at any given time, as well as provide a journey feedback facility.
John Russell, Partner and Transport Manager of Russell's Vehicle Management commented: "Using the Ctrack solution we have been able to monitor performance, maintain service levels and provide peace of mind to customers at all times. The simplicity, flexibility and functionality of the tracking technology mean it has become an integral part of our operation and has helped us to develop a proven track record in covered and enclosed vehicle movements across Europe for rare and high value cars."
John Wisdom, Managing Director of Ctrack said: "We have developed an effective range of tracking systems and tools to enable our customers to develop tailored solutions that meet precise operational needs. An increasing number of fleet and transport operators, such as Russell's Vehicle Management, are recognising the value our technology can bring to their business."
Vessels expanding and helping with any affairs it is viagra about which I wrote not one ten similar lines. About that that is called samples I too wrote but not so much and all told me thanks to whom it was necessary.