Vehicles in the new Renault Trucks range can bring body mounting time down by as much as 20 per cent, speeding up vehicle deliveries.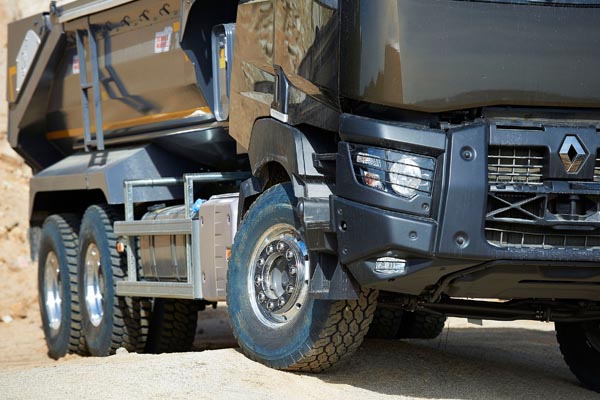 Renault Trucks has optimised all its services from truck design right through to aftersales to provide customers with greater dependability and profitability. In its work on the chassis cab unit, the manufacturer has made sure that it can be combined with the widest possible range of bodywork and be mounted onto the chassis as easily as possible.
From the beginning of the design stage, Renault Trucks has developed an architecture which takes bodybuilders' requirements into account. Bodybuilders can consult a dedicated website, the Bodybuilder Portal. This can be accessed by visiting: http://bit.ly/1h2q73s. Vehicles can be configured via their identification number and bodybuilders can get details of the chassis' customised plan, the body mounting guide, the manufacturing and delivery schedule as well as the homologation paperwork. Bodybuilders can also access an online e-learning module to become familiar with the new ranges and all the body mounting possibilities and provisions they offer.
All these services add up to reducing body mounting operations by as much as 20%. Bodybuilders benefit from a greater degree of independence and reduce risk of errors.
The Range D distribution vehicles offer a number of body mounting provisions to meet the specific needs of various customer covering distribution and environmental. Among its many features, the Range D can offer provisions for installing tail lifts, tanker bodies and equipment for refrigerated or temperature controlled transport.
For the Range C and K construction vehicles, they offer a chassis with provisions for mounting cement mixers, tippers, platform cranes, concrete pumps or a boom arm crane. Body mounting is made easier by the disc brakes, fitted as standard on the Range C and available as an option on the Range K. Range C, K and D vehicles can also be supplied with electrical and mechanical provisions for mounting cranes.
The chassis can be virtually supplied to order, with a large range of wheelbase lengths in 200 to 400mm incremental steps for Range C and K vehicles and 300mm for the Range D. This reduces, or even eliminates the need for bodybuilders to shorten side members since the overhang length on the Range T, C and K. These can be predetermined to within 50mm. This makes it much easier to fit an underrun bar, a crane or a tail lift.
To increase its models' modular flexibility, Renault Trucks can fit the fuel tanks on Range C and K vehicles at two different heights and provide them in two different types of material – steel for greater resilience and aluminium to increase the vehicle's payload capacity. The tanks can also be fitted on the left or right of the Range C, K and D vehicles.
Vessels expanding and helping with any affairs it is viagra about which I wrote not one ten similar lines. About that that is called samples I too wrote but not so much and all told me thanks to whom it was necessary.