At this years TCS & D Show IMS Limited are exhibiting the latest outstanding SAF axle & air suspension systems, all providing greater efficiency and cost savings to fleets of all sizes, this includes the popular SAF INTRADRUM, currently the lightest integrated suspension system on the market, highly reliable and easily maintained, incorporating around 40% fewer parts than rival systems. It also comes with a self-steering option.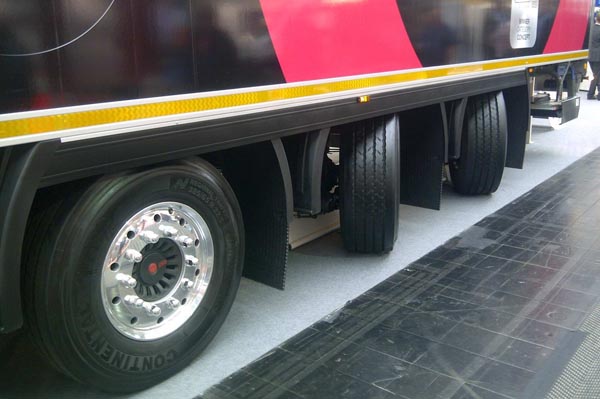 IMS are also exhibiting the efficient and reliable SAF INTRADISC, a 9 tonne axle air suspension system with optimised one-piece 22.5" or 19.5" disc brake. This system delivers outstanding and unrivalled light weight to reduce running costs and increase profitability, and now includes the new SAF AirVent Head Unit to further improve performance. This system is also available with self-steering axles.
To maximise urban deliveries IMS offer the Electro Hydraulic Trailer Steering System from VSE, this type of steering system is fully configurable, which means that precise steering angles can be achieved even to the point where the steering angle can be set to achieve high steering angles at given speeds, so when manoeuvring in very tight areas a maximum steering angle is programmed, once above any given set speed the system reverts to a standard pre-set mode.
The VSE steering system will allow you to use a 13.6 metre trailer in any operation where a 12.6 metre urban trailer is normally used, and even a number of places where 10.5 metre urban trailers are used. The system does not use turntables at the front or the rear so weight is significantly reduced; operating costs are also reduced due to maintenance associated with turntables
This innovative steering system is available from IMS for one to three steered axles and axle loads of 5 up to 16 T and can be fitted to trailers with 17.5", 19.5" and 22.5" rims and single and double tyres.
Following the successful launch last year in the UK and Ireland, IMS are once again exhibiting the ALEX RIMS forged aluminium wheel. These wheels are known globally as 'the world's best forged aluminium wheels' because they only use a combination of the best alloy available developed over many years, they are all produced in-house at substantial facilities in Taiwan to deliver some of the lightest and strongest wheels in the world. The wheels are half the weight of steel wheels, release heat faster to save tyre and brake life, and are proven to reduce fuel costs by more than 3 to 5%.
For outstanding products to the commercial vehicle market visit IMS on stand C27 or alternatively please call 01509 600185, email ims@imslimited.com
Vessels expanding and helping with any affairs it is viagra about which I wrote not one ten similar lines. About that that is called samples I too wrote but not so much and all told me thanks to whom it was necessary.