Michelin has completed the launch of its new 295/80 R 22.5 X MultiWay 3D range with the introduction of the drive pattern tyre (XDE) during January 2013. It follows the September 2012 launch of the steer tyre (XZE), and now sees both products in full production at Michelin's plant in Ballymena, Co. Antrim.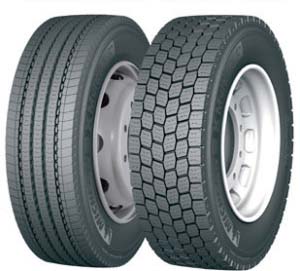 The 295/80 R 22.5 X MultiWay 3D XDE and XZE are aimed at regional and national operators on a mix of local and major trunk roads. The tyres have been developed by Michelin principally for fleets, where this popular size is favoured by domestic operators.
Commenting on the launch, Sharn Samra, Head of Truck Marketing at Michelin, says: "The X MultiWay 3D represents the cutting edge of new tyre technology, and we're launching it into a market where the 295/80 accounts for approximately 25 per cent of all commercial vehicle tyres sold."
Michelin gained more than two points of market share in the UK following the launch of the steer pattern tyre last September – backed up by positive feedback from early adopters of the new tyre across the country.
Samra adds: "The previous generation XZE2+ and XDE2+ tyres had been in production for a decade, yet they were still holding their own against competitor products. With the new X MultiWay 3D we've taken a massive step forward and operators can reap the benefits of an all-new tyre combining excellent traction, increased longevity, enhanced fuel-efficiency with outstanding safety, comfort and cost-effectiveness."
The X MultiWay 3D range gets its name from its three-dimensional tread sipes which generate grip in difficult driving conditions, locking together when needed to maintain the stability of the tread. This helps to provide lasting safety and mobility on dry, damp and wet surfaces, whilst the 3PMSF (3 Peaks Mountain Snow Flake) and M+S (Mud + Snow) sidewall markings are a further indication of excellent grip and traction during winter conditions.
The launch of the 295/80 steer and drive tyres in this new range follow the launch in 2011 of the 315/70 and 315/80 X MultiWay 3D steer and drive tyres, which have quickly established themselves amongst the top-selling Michelin commercial vehicle tyres on the Continent. The full X MultiWay 3D range is testament to the €592 million of investment Michelin channels into research and development every year – more than any other tyre manufacturer.
Michelin has manufactured more than 30,000,000 tyres in Ballymena since its plant opened in 1969. The company also produces remanufactured commercial vehicle tyres at its site in Stoke-on-Trent, and has an extensive car tyre production facility in Dundee.
Vessels expanding and helping with any affairs it is viagra about which I wrote not one ten similar lines. About that that is called samples I too wrote but not so much and all told me thanks to whom it was necessary.