A renewal programme by Lancashire firm McMurray Haulage Limited has seen eight XF105 tractors become the first DAFs to join the company's 29-strong fleet and which have been supplied by Preston dealer Lancashire DAF.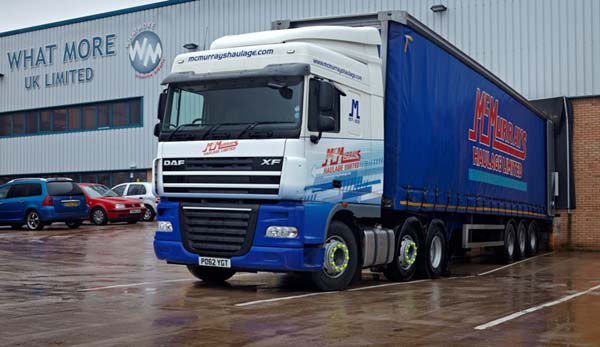 David McMurray, Managing Director of the family business, said that cost was a key factor in choosing the DAFs, both the value for money finance package that supported the introduction of the trucks into the fleet and their whole life costs.
The introduction of the DAFs marks a change in the company's replacement policy, which will now be based on a three year cycle. The good residual values that are anticipated at the end of this time played a key part in the decision.
"The reputation that DAFs have for good fuel efficiency was also an important consideration," says Mr McMurray. "With these trucks covering around 160,000 kilometres a year on general haulage around the UK and with fuel at its present high price, we need to contain our fuel bill. It's early days yet but already the signs are encouraging that the DAFs will give us good figures as they are already nudging above the 8.5 mpg mark."
The company has also opted for the 12-speed AS-tronic automated gearbox in the 44 tonne DAFs. "We find that automatics give us more consistency on fuel and in terms of general performance," says Mr McMurray. "And there are other benefits such as no clutch wear issues and safer driving."
Power for the 6×2 mid-lift axle DAFs is from the 12.9 litre MX engine rated at 460 bhp and which meets both Euro 5 and EEV emission standards. This offers ample power to overcome wind resistance when pulling some of McMurrays higher cube trailers and at 2300 Nm the trucks have plenty of torque to get them moving. Extended service intervals involving the use of synthetic oils means that the trucks will spend less time in McMurray's workshops at Accrington, where they will undergo their safety inspections and servicing.
McMurray's drivers will typically spend up to five nights a week sleeping in their DAFs and are reported to enjoy the roominess of the Space cab. Creature comforts include an air suspended driver's seat with armrests, air conditioning, a high quality radio/cd player, and ample storage space for their personal gear.
The trucks were supplied with a factory fitted Jost sliding fifth wheel to allow the tractors to run with a range of trailers. Other factory fitments include an extra long catwalk with steps and an adjustable roof spoiler with side collars to support fuel economy.
As well as supplying the new trucks Lancashire DAF will provide ongoing parts support and carry out any warranty work that may be necessary.
Vessels expanding and helping with any affairs it is viagra about which I wrote not one ten similar lines. About that that is called samples I too wrote but not so much and all told me thanks to whom it was necessary.