Krone is showing its 'all-rounder' Box Liner container carrier at this year's MultiModal Show which, says the company, guarantees greater versatility and easier handling for operators in the UK and Ireland.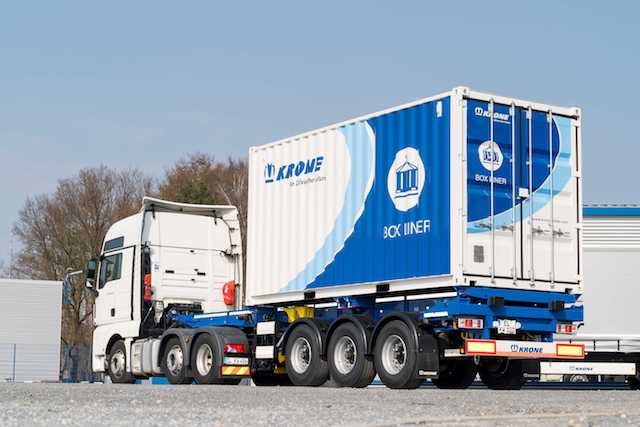 The versatile Krone Box Liner, sliding-bogie skeletal trailer is designed to carry 20',30',40' and 45' containers; two boxes at once or any standard sized tank. Quick-release twist locks also ensure fast and easy handling for tough, pick-up-and-drop container work.
Manufactured by Krone and designed in Germany with close involvement from the Krone UK sales team, the Box Liner comes in four colours and with Krone's 10-year guarantee against corrosion perforation.
The Box Liner also comes with an optional telematics package for performance and location monitoring: Krone's-own telematics technology enables operators to benefit from remote tyre pressure monitoring, mileage recording for maintenance intervals, empty or reduced load detection, braking system status and trailer location.
Additionally, an automatic notification can be given, to alert regarding ABS or EBS malfunctions and a further alert made to the customer if any remedial work has not been carried out within a given time frame.
The Krone team will be present from 13-15 June, NEC on stand 9040.