Paul Green, Group Warranty Manager for Keltruck Ltd completed a gruelling 220-mile charity cycle from the extremes of Keltruck's branch operations in Cross Hands in west Wales to Worksop in north Nottinghamshire. Stopping off at number of other Keltruck locations en-route the event was aptly named 'Tour De Branch' and was all in aid of the Children's Charity 'Wish Upon A Star'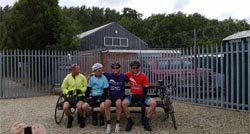 In May 2011 Paul was diagnosed with Non-Hodgkins Lymphoma. After several months of treatment Paul was given the all clear and set about regaining his fitness. Paul comments: "Following recovery from my illness I wanted to get myself back into shape. I bought a bike and pair of lycra shorts and as they say… went for it! It was while Bradley Wiggins was powering to Tour de France glory that a couple of work colleagues set down a challenge.
After careful planning and months of training, Paul had assembled his team of cyclists to complete the challenge, all riding to support their own chosen charities. Riding along with Paul were Richard Mole who runs a landscaping and building business covering the Midlands who has been a close friend of Paul's spanning over two decades, Richard's business partner Adam Fulford was rider number three and Keltruck 's own workshop foreman from the Tamworth branch, Noel Wakling was the fourth cyclist to complete the team. The support team for the cyclists comprised of Kevin Law and Dave Chambers who are both managers from the Keltruck West Bromwich Head office and good friends with Paul Green. Their support team vehicle (a Keltruck 24/7 Scania Assistance vehicle) was emblazoned with decals of companies that have sponsored and supported the event.
With the team fully assembled, the date was set and plans put in place for 22nd June 2013 for the four cyclists and their support team to commence a cycle ride from Keltruck's most southerly branch at Cross Hands, Llanelli, Wales to the most northerly branch at Worksop, Nottinghamshire. The journey would span a distance of 220-miles which was broken down into a two day event with opportunities built in to stop at five Keltruck branches along the way.
The challenge took the team from Cross Hands, Llanelli to Trecastle to their first stop then onto Hay one wye before snaking up toward Worcester finally stopping at Keltruck's Droitwich Branch at the 110 mile mark ending the first day. The second day saw them leave Droitwich heading to West Bromwich for a family and friends reunion then on through the Midlands taking a stop at Keltruck'sBurton on Trent Branch followed by Keltruck's Sutton in Ashfield Branch finally making the 220 mile mark at Keltruck's most northerly branch at Worksop.
Paul and the team travelled 220 miles with 16 hours in the saddle and a giant 10,000 calories burned in the process…
The team has raised almost £5000 for childrens charity Wish upon a Star and is still received donations through a website set up at http://www.justgiving.com/Paul-Green12
Paul's final comment was 'That's me done…..until next year'
Paul, 43, has worked at Keltruck for 26 years commencing as a YTS apprentice in 1986 at the West Bromwich branch. Having passed his City & Guilds levels 1, 2 & 3 he continued to work as a technician until 1996 when he was offered the position of service advisor at West Bromwich depot which he undertook. In 1997 Paul was promoted to manage the Esso & KwikSave VMUs before moving onto Droitwich in 1998 as Branch Manager. In 2000 Paul was offered the role of Group Warranty Manager which he accepted and still performs today.
Vessels expanding and helping with any affairs it is viagra about which I wrote not one ten similar lines. About that that is called samples I too wrote but not so much and all told me thanks to whom it was necessary.