Just Fleet has teamed up with Intelligent Telematics to become the first dedicated motor fleet insurance broker in the UK that will fit all vehicles with a front facing accident camera. The company will utilise Intelligent Telematics' IT 1000 3G Vehicle Camera, the most sophisticated camera solution of its kind currently available, to help fleet operators reduce their long-term exposure to vehicle accidents, cash for crash incidents and exaggerated or 50/50 claims.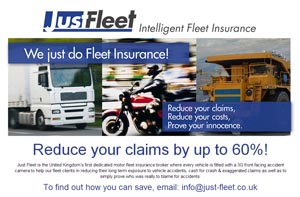 The 24-hour monitoring provided by the IT 1000 3G camera will enable instant notification of a high level event, such as accidents or near misses, with video footage, g-force and speed of impact data available via an online interface within 15 minutes. As a result, Just Fleet will not only be able to prove blame but also increase speed of intervention to minimise third-party hire and vehicle repair costs. This combined with proven improvements in driver behaviour when using forward facing cameras will ultimately help fleets to reduce insurance premiums.
Ben Burford, Managing Director of Just Fleet commented: "We undertook a detailed review of the vehicle camera marketplace and found that the Intelligent Telematics' solution possessed all the essential ingredients we required in terms of responsiveness, accuracy and quality. Therefore, this partnership will enable us to achieve measurable benefits for clients in terms of protecting their fleet, minimising risk and reducing operational overheads."
Sam Footer, Head of International Business and Strategic Development said: "This latest agreement recognises our ability to help reduce the severity and frequency of vehicle fleet insurance claims by enabling an unrivalled response to accidents and other driving incidents. We are working with an increasing number of leading Insurers, insurance brokers, claims management organisations and major fleet operators to develop and implement end-to-end vehicle camera solutions."
Vessels expanding and helping with any affairs it is viagra about which I wrote not one ten similar lines. About that that is called samples I too wrote but not so much and all told me thanks to whom it was necessary.