International development charity, Transaid is inviting cycling enthusiasts and those with a sense of adventure to take part in a charity ride across Uganda to mark its 15th anniversary.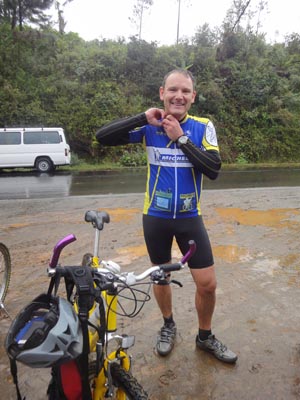 The spectacular challenge will see participants cycle 430km over five days, taking in some of the country's most beautiful locations, including Murchison Falls National Park, home to more than 700 wild chimpanzees and Ziwa Rhino Sanctuary.
The event, which sees participants depart the UK on 2 November 2013, will also give riders the opportunity to learn about Transaid's emergency transport project in Uganda and meet local representatives.
Transaid's Chief Executive, Gary Forster, says: "We are delighted to be celebrating our 15th anniversary this year and we really wanted to organise some fantastic and memorable events to celebrate this milestone. The Uganda cycle ride is a special way to support the charity and a once-in-a-lifetime opportunity to explore the stunning African landscape by bike, taking in not just the amazing scenery but the life-changing work Transaid does. Spaces are filling up fast so we advise anyone interested to get in touch soon and help us to celebrate 15 years of hard work."
Guy Heywood, Commercial Director of Michelin's truck and bus tyre division, is one of a number of senior industry figures taking part in this year's event. He says: "I joined Transaid's Cycle Madagascar team in 2012 and it was an unforgettable experience; this year I'm back in the saddle with three colleagues and we've set ourselves the challenge of raising enough money for Transaid to purchase 25 bicycle ambulances to help remote African communities.
"Covering this kind of distance over unknown terrain won't be easy, but it's for a great cause and the sense of achievement when we cross the finishing line and present the money we have raised to Transaid will be well worth it."
Guy, who only dusted down his bike and got back into cycling two years ago, says you don't have to be an athlete to take part. "So long as you can put in some training ahead of the event, and gradually build up the distances you are covering, you'll be fine. Plus the Transaid events are a super way to make new industry contacts, get fit and help to save lives in the process," he adds.
Already signed up are individuals and teams from Cidrew Ltd, Lafarge Tarmac, Michelin, Norbert Dentressangle, The Forest Company and Pattonair.
Anyone wishing to take part in the Uganda Challenge (2-10 November 2013) can request a registration form by emailing Florence@transaid.org or calling on 020 7387 8136.
A registration fee of £299 is required for the challenge and all cyclists are asked to raise a minimum sponsorship of £3,300. For sponsorship help and ideas Transaid's team of dedicated experts are on hand to offer hints and support on fundraising and training from the moment participants sign up.
Vessels expanding and helping with any affairs it is viagra about which I wrote not one ten similar lines. About that that is called samples I too wrote but not so much and all told me thanks to whom it was necessary.