A trio of DAFs new LF Construction model now in service with long-established North West scrap metal and recycling company Smith Metals are proving very productive as well as presenting a highly professional image for the company.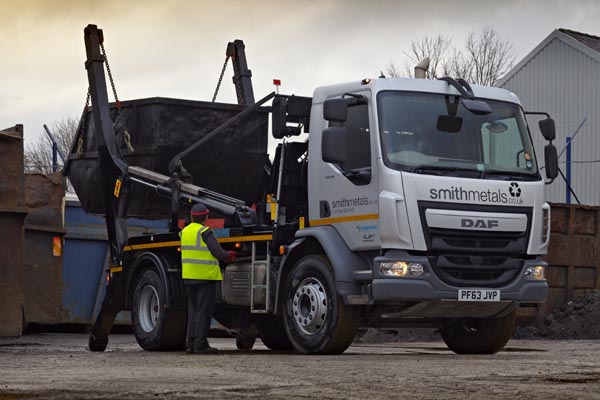 Smith Metals is part of the One51 Group's Clearcircle Environmental division and is using the trucks to collect scrap metal and other related waste materials within a 100 mile radius of the company's Bolton operating base.
Company site manager, Jason Wilson, says that the good performance of earlier DAF models in their seven strong fleet was a key factor in the decision to purchase the new LF. "Ours is a demanding business and we need trucks that are durable and reliable, which our DAFs have proved to be.
"The new LF model also looks good, which enhances our own image when they are at customer premises making pick-ups or out on the road. They came out of the factory painted in metallic grey and to a very high standard of finish, requiring us only to have the Hyva equipment fitted and the vinyls applied."
Fitted with Hyva skiploading equipment, each truck is making up to 10 drops a day mainly carrying 8.0 cubic yard skips, which gives them a potential payload of up to 9.0 tonnes, but they have the flexibility to handle larger skips and containers of up to 16 cubic yards.
The new DAF LF FA Construction model has a nominal gross weight of 19 tonnes and is plated at 18 tonnes for UK operation. As its name implies, the model is designed to meet a range of demanding duties in the building and waste management sectors with features such as a vertical exhaust, increased approach angle and higher ground clearance to cope better with challenging site conditions, which Smith Metals' vehicles occasionally encounter.
The 3.75 metre wheelbase LFs are fitted with Hyva 2012XL skip loading equipment with a 12 tonne lift capacity. This has telescopic side arms which can lift up to 12 tonnes at a reach of 2.95 metres when closed, and 8.0 tonnes at 4.4 metres when extended. For increased flexibility when lifting a skip at an angle, the arms can be operated independently as can the rear stabiliser jacks. Hyva's own Autosheet system is fitted and this is powered by hydraulics rather than an electric motor for smoother operation.
Power for the DAFs is from the new 6.7 litre PACCAR PX-7 engine with Smith Metals opting for the 220 horsepower (164 kw) rated version of this six-cylinder Euro 6 engine. This gives a comfortable power-to-weight ratio of 12.2 bhp/tonne to enable good journey times leading to increased productivity and without compromising on fuel efficiency.
A six-speed manual gearbox and 5.13 ratio drive axle also contribute to good performance and the high torque output of 850 Nm is available between 1100 and 1800 rpm to assist smooth move-offs in all road or load conditions.
A comfortable and safe working environment is provided for the driver in the redesigned cab of the new LF model. Amongst many new features is a revised dashboard layout and the same electronic instrument panel as used in the top-of-the-range XF model with dials that have a stylish aluminium finish.
Coping with adverse weather conditions is made easier by mirrors that are electrically heated and adjustable and electrically operated windows. Both the driver's seat and steering column are fully adjustable to ensure a comfortable and safe driving position. Climbing in and out of the cab half a dozen times a day is also safer by the wide and fully-opening door, well placed grab handles, and wide steps, which use an open mesh design for increased grip.
The trucks were supplied by Preston based Lancashire DAF.
Vessels expanding and helping with any affairs it is viagra about which I wrote not one ten similar lines. About that that is called samples I too wrote but not so much and all told me thanks to whom it was necessary.