As the year progresses and we move into the winter months, workshops must begin to consider the forthcoming weather conditions and the specific requirements of the vehicles. The cold weather can lead to extended journey times, vehicles unnecessarily being off the road and there is added stress on drivers who have to cope with arduous driving conditions. Therefore, the last thing you need is further vehicle downtime as a result of winter related component failure.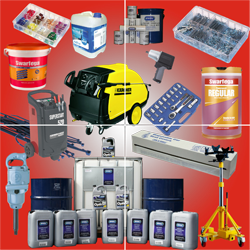 Prevention is far better than cure and to ensure customers are able to take full advantage of preventative maintenance, Intertruck, the UK's leading commercial vehicle factor, is advising that workshops are as prepared as far as possible. To achieve this, the company has compiled an essential checklist for workshops, which has been specifically designed to ensure vehicles are able to survive the winter months. It is recommending that the following areas should be checked regularly:
• Antifreeze levels
• Radiator condition
• All filters
• Lights, lenses and bulbs
• Battery condition
• Wiper blades and washers
• Spray suppression
• Air dryer cartridge
• Brake adjusters
• Brake chambers and spring brakes
• Turbo condition
• Mirrors
Ed Pedder, General Manager, major accounts at Intertruck said: "Costs continue to rise and many fleets are being placed under increasing pressure to be as efficient as possible. The winter months present a very specific problem and it is paramount that vehicles perform reliably whatever the weather. Intertruck is committed to providing the commercial vehicle operator with a comprehensive all makes range of OE quality components. In partnership with famous brand names and backed by a nationwide network of 30+ branches, each holding comprehensive stocks and offering fast efficient service, we are confident we can fulfil all parts requirements this winter."
Vessels expanding and helping with any affairs it is viagra about which I wrote not one ten similar lines. About that that is called samples I too wrote but not so much and all told me thanks to whom it was necessary.