A survey recently commissioned by Goodyear in several European countries revealed that, currently, fleets prefer to make their tyre choice based on tyre performance rather than tyre application.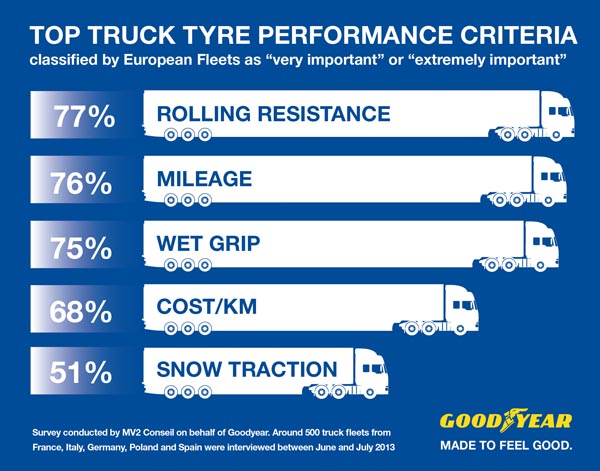 The most important performance area for operators is rolling resistance, which directly influences fuel efficiency. Of the fleets interviewed, 77 per cent classified this as "very important" or "extremely important". Mileage (76 per cent) and wet grip (75 per cent) classified second and third.
Transport has evolved over the last years and there is now a much greater mix of the types of haulage that transport companies are engaged in. In addition to this, operational costs are increasing. The survey showed that 91 per cent of the fleets interviewed predict a further increase in fuel prices and 84 per cent of them expect an increase in other costs as well. That is why they are focusing more than ever on reducing their operational costs, including concentrating on selecting the best tyres for their business model. It is no coincidence, therefore, that 70 per cent of the fleets interviewed claim they already purchase fuel-efficient tyres or that they will start doing so in the near future (21%).
This is why Goodyear has developed the new Mileage and new Fuel Efficient truck tyre lines, called, respectively, KMAX and FUELMAX, which will be launched in September 2013. These, as their names imply, put the focus on the customers' main priorities without compromising other areas. High levels of performance in the areas of durability, wet grip and traction are some of the additional benefits that the new tyres offer.
The two new lines are the result of intense cooperation between Goodyear's engineers and European fleets. Meeting customers' current and future needs is a top priority for the company.
Further interesting information from the survey will be published in conjunction with the launch of the new tyres in September.
Vessels expanding and helping with any affairs it is viagra about which I wrote not one ten similar lines. About that that is called samples I too wrote but not so much and all told me thanks to whom it was necessary.