Freshlinc is once again returning to Schmitz Cargobull to supply reefers for its growing fleet as the firm claims strong residual values enable a more competitive weekly rate.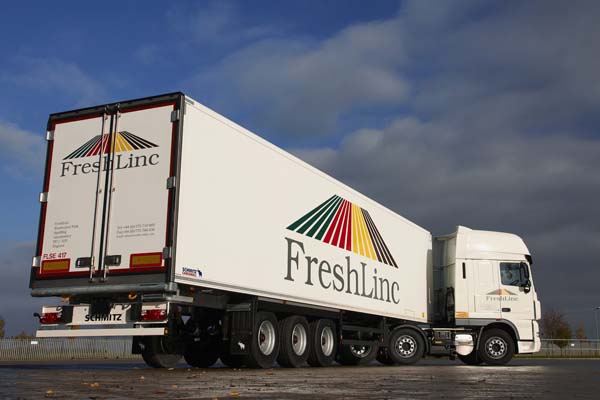 The Spalding-based chilled food distributor will add a further 50 reefers from Schmitz Cargobull to a fleet which is already 90 per cent supplied by the manufacturer – taking its temperature controlled road asset pool to a total of 325 tri-axle semitrailers.
Andy Marchant, Fleet Engineer for Freshlinc, said: "Schmitz Cargobull equipment offers a build quality and residual value over and above others in the marketplace. This allows us to take advantage of competitive rental rates which are based primarily on the anticipated condition of the trailers when they finish their life on our fleet.
"We keep coming back for the simple reason that Schmitz has hit the nail on the head with a well-built piece of kit which holds its value and perfectly suits our European operations," he added.
Due to a unique design which includes FERROPLAST® insulated panels, steel skins and a semi chassis which offers a 100mm overall lower running height, Schmitz Cargobull claims that its reefers achieve a residual value of approximately 20 per cent more than any competitor of an equivalent specification.
Freshlinc will use the new trailers – which are an identical spec to those brought onto the fleet 12 months ago featuring strengthened front bulkheads and supermarket style rear compression buffers – to bring flowers into the UK from Holland.
"The sound construction of Schmitz reefers gives us the confidence to know that in the event of any damage, our downtime would be minimal as repairs can be undertaken quickly. This is particularly important when carrying temperature sensitive loads as the saying 'time is money' has never been truer," added Marchant.
The unique bolted and galvanised construction method adopted by Schmitz Cargobull for its reefers removes much of the need for costly, and time-consuming, welding and paint repairs in the event of damage. Additionally, if a steel skin is damaged, it is not an emergency job as the overall structure will not absorb moisture.
The 50 new trailers are expected to remain on the Freshlinc fleet for five years and are supported by a 10 year anti-corrosion warranty and five year structural warranty.
Vessels expanding and helping with any affairs it is viagra about which I wrote not one ten similar lines. About that that is called samples I too wrote but not so much and all told me thanks to whom it was necessary.