Company expansion has led nationwide bulk powder distributors, Damac Transporters, to add a further 10 Renault trucks to its 38-strong all Renault fleet. The Renault Premium 460.25 6×2 tractor units, with Privilege cabs and Optidriver gearbox, were supplied through Renault Trucks distributor, Thompson Commercials Hull.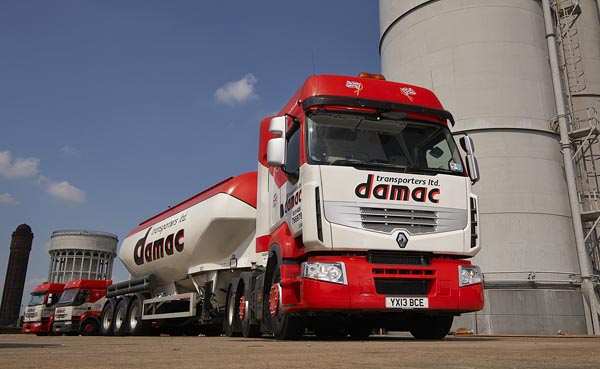 The trucks have discharge equipment and air compressors, supplied and fitted by WG Tankers Ltd. They will transport and distribute mainly cementitious powder products nationwide, for clients in the construction industry.
Cathy Plaskitt, Managing Director, Damac Transporters, says: "This latest order follows the purchase of 21 new Renault Premiums in 2012 as we continue to expand our fleet. The Renaults are competitively priced vehicles which have proven very reliable so far. They offer lower emissions and better fuel economy than many comparable units – we have definitely seen a significant improvement in our overall fleet fuel efficiency."
She continues: "We have had a 100% Renault fleet since 2004 and have built up a good working relationship with the local dealer, Thompson Commercials. A major advantage is that they undertake all of our fleet maintenance at our depot, which minimises disruption and allows us to keep our fleet working as efficiently as possible."
Based in East Yorkshire, Damac Transporters is part of the Damac Group. Established in 1976 the company specialises in bulk powder and cementitious products, from loading and shipping, to handling and transport. The company has an established fleet of specialised vehicles designed for the movement of dry bulk powders. The fleet contains dedicated road barrel tipping tanks, ISO modular pressurised tanks and tipping skeletal of all sizes. The company operates for blue chip clients in the food, cement and water treatment industries. Dama Transporters also acts as a UK agent for European companies specialising in the movemnt of dry bulk powders.
Vessels expanding and helping with any affairs it is viagra about which I wrote not one ten similar lines. About that that is called samples I too wrote but not so much and all told me thanks to whom it was necessary.