With one on a regular run to Marseille and the other on intensive container work out of Felixstowe, two new DAF XF460 tractors will certainly be earning their keep for Northampton operator SW Wreford Transport.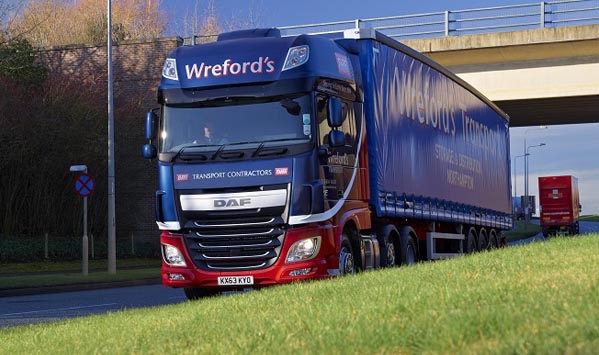 The two DAF twin steer FTG XF460 Super Space models are the first Euro 6 trucks to join the more than a century-old family firm's 100 vehicle fleet, which is involved in general haulage both in the UK and on the Continent, groupage and dedicated contracts. Although on quite different work, each of the new DAFs is expected to cover a similar annual mileage of around 125,000 kilometres.
Fleet Director Andrew Wreford said that they when choosing the new XF's they considered the whole package that surrounds them. "We run a large number of DAFs and we know that they are reliable and good on fuel, but that's only part of the equation," he said. "We have to consider parts costs and residual values as well. And we greatly value the first class support that we get from our local DAF dealer, Brian Currie, with whom we've had a long-standing relationship, and also direct from DAF themselves."
Part of that support will come early in 2014 when fitters from the company will spend time at DAF's UK headquarters in Oxfordshire attending a training course covering the new technologies being used to achieve Euro 6 compliance.
"We have a large and well equipped workshop in which we maintain our own vehicles and do some third party work and which includes an ATF lane," explains Andrew. "Being able to keep our fitters right up to date on the latest developments in truck technology is important. In the case of our new Euro 6 DAFs that means both SCR technology and a more advanced form of EGR, along with diesel particulate filters, which are something new to us."
Wreford have chosen a high level of specification for the XFs. DAF's Super Space cab will provide comfortable living accommodation for driver Brian Chapman who will be at the wheel on the long runs to Marseille, from where he will be hauling trailers back to the UK that have arrived by ferry from Morocco.
Brian, who is one of the company's longest serving employees and has strong family links going back to the very earliest days of the business, will enjoy enough headroom to enable him to stand up easily, a comfortable bunk, and ample storage space for his personal belongings. The addition of an interior 'night lock' will take care of his personal security when sleeping in the cab and DAF's new navigation system will get him to where he wants to go using routes that will ensure optimised mileage consistent with good journey times.
When on the road both he and Bill Dickinson, who will be behind the wheel of the other XF, will have ample power with the MX-13 engine being rated at 460 bhp (340 kW) to give a comfortable 10.45 bhp/tonne of power to weight at 44 tonnes. The MX-13 also delivers plenty of torque at 2,300 Nm between 1,000 and 1,400 rpm. A 12-speed AS-tronic automated transmission and single reduction drive axle completes the driveline.
Externally the trucks look great with the new styling of DAF's 2014 models and the big Super Space Cab carrying Wreford's distinctive red, white and blue livery very well. Skylights fared into the roofline and fog and cornering lights are further enhancements to the stylish appearance.
Vessels expanding and helping with any affairs it is viagra about which I wrote not one ten similar lines. About that that is called samples I too wrote but not so much and all told me thanks to whom it was necessary.