Bullwell Trailer Solutions has launched a recruitment drive for mobile engineers in Luton and Milton Keynes as part of the company's continuing expansion across the UK. Specialists in mobile trailer repair and maintenance, Bullwell currently employs 55 engineers and is hoping to increase this figure by more than 10 per cent by the end of March 2013.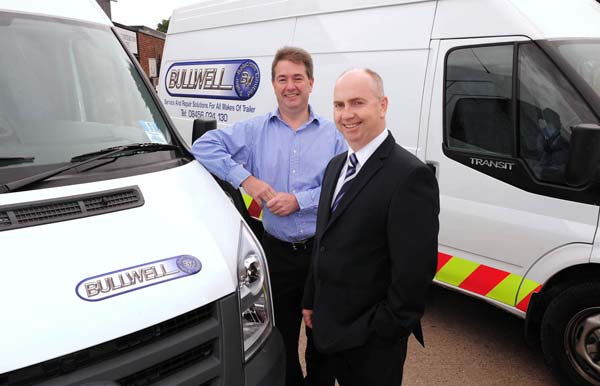 The recruitment drive in Milton Keynes and Luton will allow Bullwell to cover the increase in demand from its clients in the south of England, with particular focus on Buckinghamshire and Bedfordshire. Currently, Bullwell manages the maintenance of 600 semi-trailers and tractor units in the area with clients including TK Maxx, Royal Mail and DHL. A recruitment drive is also taking place in the Midlands, close to Bullwell's headquarters in Lichfield.
Gary Bulley, managing director at Bullwell Trailer Solutions said: "Over the past couple of years we have seen Bullwell go from strength to strength and demand amongst both new and existing clients is at an all-time high. We are currently looking for three engineers in the Luton and Milton Keynes area to help ensure we are continuing to deliver a high-quality service to our customers.
"At Bullwell we pride ourselves on bringing quality to the trailer industry. Each of our engineers goes through a strict training programme – which has been designed specifically to suit the needs of the company – when they are appointed. This means we can ensure each engineer is trained to our high standards and capable of repairing and maintaining vehicles to the levels outlined by the manufacturers.
"During the past year we have invested large amounts of money into the company, designing bespoke data capture and tracking systems, becoming 100 per cent paperless and equipping our mobile vans with the latest technology – this has paid dividends in ensuring we are regarded as a top quality and reliable company."
Bullwell currently employs mobile engineers in various locations across Great Britain from Exeter to Glasgow, maintaining in excess of 5,000 trailers.
For more information on available positions at Bullwell Trailer Solutions visit www.bullwelts.co.uk
Vessels expanding and helping with any affairs it is viagra about which I wrote not one ten similar lines. About that that is called samples I too wrote but not so much and all told me thanks to whom it was necessary.