Brigade Electronics will return to the CV show in April to launch their most intelligent camera monitor system yet.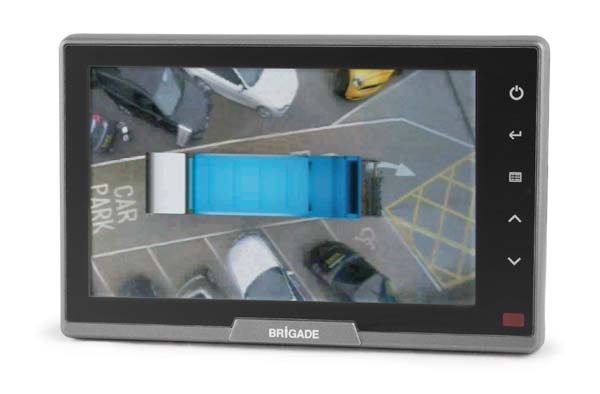 Brigade Smarteye™ powered by ASL360, is a sophisticated camera system that provides the driver with a bird's-eyeview of the vehicle for effortless manoeuvring.
Four ultra-wide angle cameras with 187° lenses eliminate vehicle blind spots to provide a 360° view in a single image. Intelligent software flattens the raw fisheye images and bespoke blending techniques stitch them together to provide a seamless view on the monitor. The stitch lines can be positioned to suit your vehicle, providing the best visibility for critical blind spots at all heights. The software also balances the lighting across all views for an even, real-time image.
Emily Randall, Brigade's marketing communications manager said: "This revolutionary process takes camera monitor systems to the next level in the advancement of vehicle safety, providing ultimate visibility and reducing driver overload by presenting the driver's landscape on one monitor. Operators can even choose vehicle type and livery so they see the actual vehicle footprint on the monitor, making the image recognisable to the driver."
Unlike other systems, Brigade Smarteye™ is highly accurate in setup, automatically preventing calibration on uneven ground thereby helping avoid accidental blind spots and making safety paramount from the beginning. The self-monitoring system automatically switches off a camera in the event of a malfunction, guaranteeing there are no frozen frames and encouraging the operator to seek further diagnostics.
Brigade Smarteye™ will be installed and calibrated by approved, professional, qualified engineers to provide customers with confidence and peace of mind. Visitors to the CV show will be able to view Smarteye™ on Brigade's demonstration vehicle.
Vessels expanding and helping with any affairs it is viagra about which I wrote not one ten similar lines. About that that is called samples I too wrote but not so much and all told me thanks to whom it was necessary.