Bridgestone has launched, ToolBox a powerful yet user-friendly package of software-based solutions for tyre fleet management.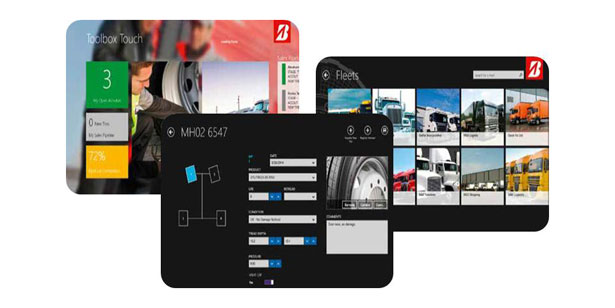 By enabling the comprehensive and accurate collection, analysis and reporting of a wide range of tyre management data, ToolBox significantly boosts productivity while identifying opportunities to reduce costs.
Tyres represent a major part of any fleet's general operating costs. Which is why Bridgestone is committed to helping fleet owners get the most out of them. The ToolBox suite offers Bridgestone Tyre Consultants instant and easy access to all kinds of tools and tyre-related information to maximise return on investment for their customers. For example, ToolBox enables users to follow tyre consumption and maintenance standards, monitor and compare performance levels/operating costs and implement comparative tyre trials, fuel optimisation practices and wear and damage reduction measures. As such, the ToolBox suite represents a powerful package of value-added solutions that can have a significant impact on the operational costs and competitiveness of any fleet.
Mat Wilkinson, Solution Business Europe, Bridgestone Europe: "Our goal is to provide fleet customers with first class products and services that improve both the efficiency of their day-to-day operations and their bottom line. Our ToolBox application is designed to empower our teams in the field with the tools and information they need to boost productivity and deliver great customer service."
The application has been in use in Europe since October 2013 and is currently available in multiple languages. The Web version is fully compatible with all standard browsers (IE, Chrome, Firefox, etc.) while ToolBox Touch, the tablet version, runs as an application in Windows 8.
ToolBox forms an integral part of the Total Tyre Care programme by Bridgestone, a flexible range of complementary truck tyre programmes designed to help fleets keep tight control on tyre-related costs. Total Tyre Care programme consists of 3 pillars: (1) Total Tyre Life, geared around a robust casing built to deliver multiple lives, offering a long first life thanks to superior Bridgestone design features and (multiple) retread lives with the company's Bandag retread solution. (2) Total Tyre Services, the component that keeps a fleet's trucks running at maximum efficiency with maintenance, monitoring and assistance services provided by the pan-EU network of Bridgestone partners. (3) Total Tyre Systems, which gives fleets clear visibility of their tyre conditions at all times via Bridgestone's unique monitoring and tracking tools such as Toolbox and TPMS.
Bridgestone's ToolBox will be on display at the Bridgestone stand (Hall 16, stand C01) at the 65th IAA Commercial Vehicles International Motor Show in Hanover (Germany), 25th September to 2nd October 2014.
Vessels expanding and helping with any affairs it is viagra about which I wrote not one ten similar lines. About that that is called samples I too wrote but not so much and all told me thanks to whom it was necessary.