BPW, renowned for its range of quality, engineered axle and suspension systems for the heavy commercial trailer market, has entered the telematics sector with the launch of the TCONTROL – Smart Trailer Monitoring System (STMS).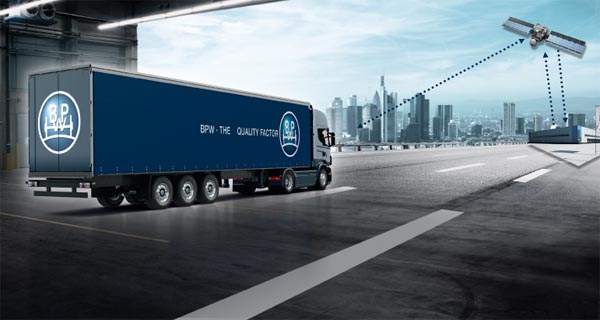 At the heart of the STMS range is the 'COOL' Management solution. Designed specifically for temperature controlled operation, 'COOL' enables management to take decisions instantly as the flow of real time information is received from their TCONTROL interrogator.
BPW, which is exhibiting at the forthcoming TSC&D Show in Peterborough, believes that the current market offering of telematics, based around understanding fleet management and driver behaviour, can be enhanced by more indepth management of both the trailer and its load. These days, time critical deliveries of temperature-sensitive goods are increasingly more demanding, with the customer expecting key areas of data to be instantly attainable to ensure that regulations are adhered to. Also, the cost of maintenance is ever increasing: fleet managers are constantly looking at lean process management to ensure maintenance downtime is low and the asset is utilised to its maximum capacity out on the road.
BPW's TCONTROL has the capability to ensure that these inefficiencies are addressed. Gathering key elements of a trailer's movements, via GPS, fridge and EBS interrogation, the TCONTROL can manage by exception. Alarms, in real time, can highlight concerns such as temperature variations i.e. set points, supply and return air alarms, door opening and closing and diesel monitoring of the refrigeration unit. The error codes on the EBS modulator can indicate roll stability and harsh braking events, as well as loading and unloading times.
Tyres and trailer components are also a significant cost to haulage companies. Incorrect tyre pressure can increase fuel costs, and trailer components that are replaced too early can deter from the bottom line of the business. BPW's solution can measure these areas and notify when detrition starts to occur, offering fleet/transport managers real time data to eschew a leaner and effective operation.
COOL Management is one of four solutions offered by BPW, with the POS Management series designed for ambient trailers. This system also integrates with the EBS modulator and GPS offering complete traceability, together with the historical data of the trailer's movements.
Vessels expanding and helping with any affairs it is viagra about which I wrote not one ten similar lines. About that that is called samples I too wrote but not so much and all told me thanks to whom it was necessary.