Logistics specialist Bibby Distribution is to utilise its full allocation of 25 longer semi-trailers (LSTs) with the delivery of twelve 15.65m models underway, adding to the 13 identical Don-Bur trailers which joined the fleet in 2012. Each trailer is 2.05m longer than the current maximum permitted length.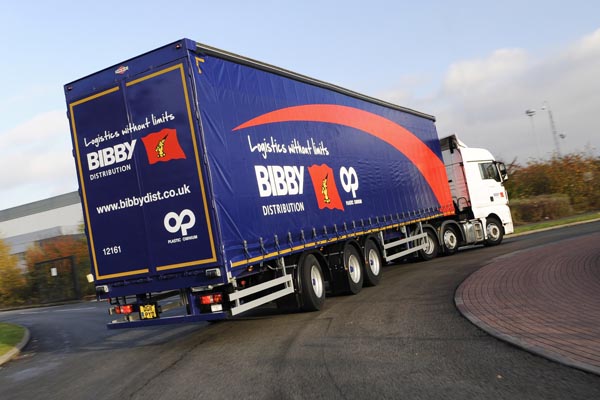 Bibby Distribution is now lobbying the Department for Transport (DfT) to extend its current allocation, to permit additional LSTs to join its fleet. This follows the DfT's announcement that it is unlikely to reach the total target allocation of 1,800 units by the cut-off date of 31 December 2013.
Paul Kavanagh, Chief Operating Officer of Bibby Distribution, says: "We see huge potential for utilising more LSTs in our operation. The extra load space they offer is allowing us to drive efficiency improvements across a number of key accounts and we're keen to utilise this latest innovation with more of our customers."
Citing the potential for further LSTs, over and above his current 25 unit allocation, Kavanagh adds: "We see potential for at least another 25 LSTs in our fleet before the end of the year. Since they reduce the total number of journeys we make, they are not just good news for the environment, but for other road users too."
Last year Bibby Distribution put its first LSTs to work across three major contracts. This included three within the operation of Saint Gobain Isover, eight into Plastic Omnium and two for a beverage can manufacturer. The next 12 are currently in the process of being delivered and will enter service on contracts by September 2013.
John Finn, Bibby Distribution's Fleet and Procurement Director, explains: "It's about understanding the detailed nature of each customer's business and their delivery profiles. We can then outline approaches to fleet type and utilisation which can deliver greater advantages in terms of cost, efficiency and that all-important green footprint.
"For customers with high load volumes, such as Plastic Omnium which manufactures automotive parts, there is a strong argument for the use of 15.65m LSTs as they offer approximately 13 per cent more load capacity. It means we can reduce road miles and therefore carbon emissions, improve fuel consumption and ultimately, make fewer deliveries."
Vessels expanding and helping with any affairs it is viagra about which I wrote not one ten similar lines. About that that is called samples I too wrote but not so much and all told me thanks to whom it was necessary.