West Yorkshire-based chemical distributor Airedale Chemical has made the switch to Schmitz Cargobull, with the purchase of a new aluminium fixed-roof curtainsider.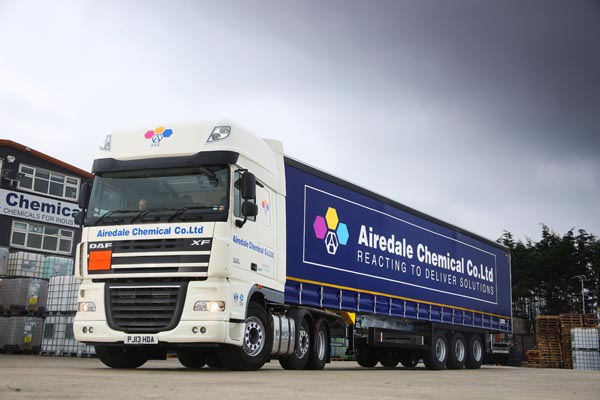 The new trailer joins Airedale's fleet of more than 20 vehicular assets and will be used to transport food-based chemicals across the UK. With the company making approximately 20,000 deliveries a year, performance and reliability are critical – and it is this which convinced Airedale to choose Schmitz Cargobull.
Graham Bird, Airedale Transport Manager, says: "We've used other manufacturers before, but for a variety of reasons decided this time we wanted to take a closer look at Schmitz Cargobull. What we are particularly impressed by is that the chassis is galvanised and bolted, which will make it easy to carry out any necessary repairs."
Because of the nature of the loads it will be carrying, the trailer features a variety of customised components direct from the factory in Altenberge, Germany, which will ensure safe and efficient transport of chemical goods. The curtainsider is equipped with an anti-theft rope through the curtain buckles, two roof-mounted restraint straps, a fire extinguisher fitted to the front bulkhead and a folding HAZCHEM plate to provide identification and warning. The trailer, branded in Airedale's livery, travels across the country pulled by a 510hp DAF XF Superspace.
Bird indicates that the firm may consider a wider move to Schmitz Cargobull. He says: "The ordering process has been absolutely perfect – one call sorts it all. We have been very pleased with our experience with Schmitz Cargobull and we will certainly be considering acquiring more trailers to handle our European operations."
Airedale Chemical is one of Britain's fastest-growing chemical distributors and manufacturers. From its Cross Hills depot in West Yorkshire, it delivers products across the UK, Europe and the Far East.
The trailer is one of the new range of Schmitz Cargobull aluminium fixed roof curtainsider trailers, which were launched in 2013. These include wraparound curtains and a new aluminium front bulkhead with galvanised steel front and rear corner posts, designed especially for the UK and Irish markets.
Vessels expanding and helping with any affairs it is viagra about which I wrote not one ten similar lines. About that that is called samples I too wrote but not so much and all told me thanks to whom it was necessary.