Fast growing Merseyside operator Abbey Logistics Group has put 10 new DAF XF105 tractor units and 15 Feldbinder dry powder tanks on the road to meet a contract it has secured with Lhoist UK, a leading producer of lime products.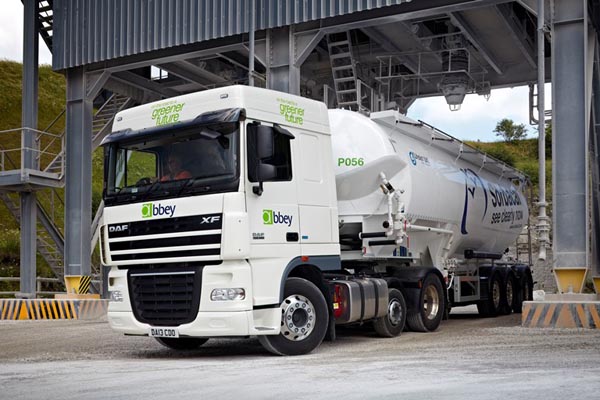 The trucks and trailers represent an investment by the company of over 1.5 million pounds and will operate out of Lhoist lime works at Hindlow near Buxton and at Kirkby Stephen in Cumbria.
Under the contract Abbey will carry both liquid and dry limestone in tanks and also palletised loads of bagged materials, providing Lhoist with a 'one-stop shop' for all its transport needs. Standardising on one type of tank and just two capacities – 48 and 56 cubic metres – has brought significant efficiency improvements enabling the entire operation to be handled with just 15 dry powder tanks.
Lhoist's lime based products are used across a wide range of applications including in agriculture, the construction industry, for water treatment, in the chemical industry, and in food production. Each year the DAFs will cover well in excess of 100,000 kilometres delivering around 75,000 tonnes of these products to locations throughout the UK.
The trucks are DAF's 6×2 FTP model featuring a mid-lift axle using smaller 17.5 inch wheels. This saves almost 400 kg in unladen weight compared to a mid-lift axle tractor with standard 22.5 inch wheels, enabling a payload of up to 30 tonnes to be carried in the low weight aluminium Feldbinder tanks, depending on material density. The tanks are discharged by means of a Gardner Denver XK18 high pressure screw type blower powered by a gearbox mounted PTO factory fitted by DAF.
Power for the 105s is from the 12.9 litre MX340 engine delivering 460 bhp (340 Kw) to give a power to weight ratio of 10.45 bhp per tonne. Along with 2300 Nm of torque, this will enable the trucks to comfortably cope with the hilly terrain of Derbyshire and Cumbria. An exhaust brake is also fitted to assist the service brakes during long descents, bringing an added element of safety and saving on brake wear. Specification of a 12-speed AS-tronic transmission also adds to safer driving and reduced driver fatigue.
The trucks feature DAF's Space Cab, which offers a high level of comfort to the driver both when on the road and when resting. Air conditioning, an electric roof hatch, ample storage for wet weather gear and Personal Protective Equipment, and a wide and deep bunk provide a high quality working environment.
Dave Coulson, Commercial Director at Abbey Logistics, comments: "This is a major contract win for Abbey and it requires trucks that are reliable, durable and fuel efficient. Our considerable experience of the DAF product shows that these XF105s will deliver for us on all of these aspects as well as presenting a very professional image of our company both when on the road and at our customer's sites. Good back-up is important too, and I am confident that the DAF dealer network will provide a high level of support and at times that work well for us."
The trucks were supplied through Merseyside DAF dealer North West Trucks and came with a two year Repair & Maintenance contract to supplement the standard two year DAF warranty. The contract covers all routine servicing and six weekly safety inspections with the Kirkby Stephen based trucks being looked after by Solway DAF at their Penrith site and the Buxton based trucks at Imperial Commercials in Derby. Both dealers will undertake this work out of hours in order to ensure maximum fleet availability.
Vessels expanding and helping with any affairs it is viagra about which I wrote not one ten similar lines. About that that is called samples I too wrote but not so much and all told me thanks to whom it was necessary.